"Fragments" by Amara E. Starling Now Available!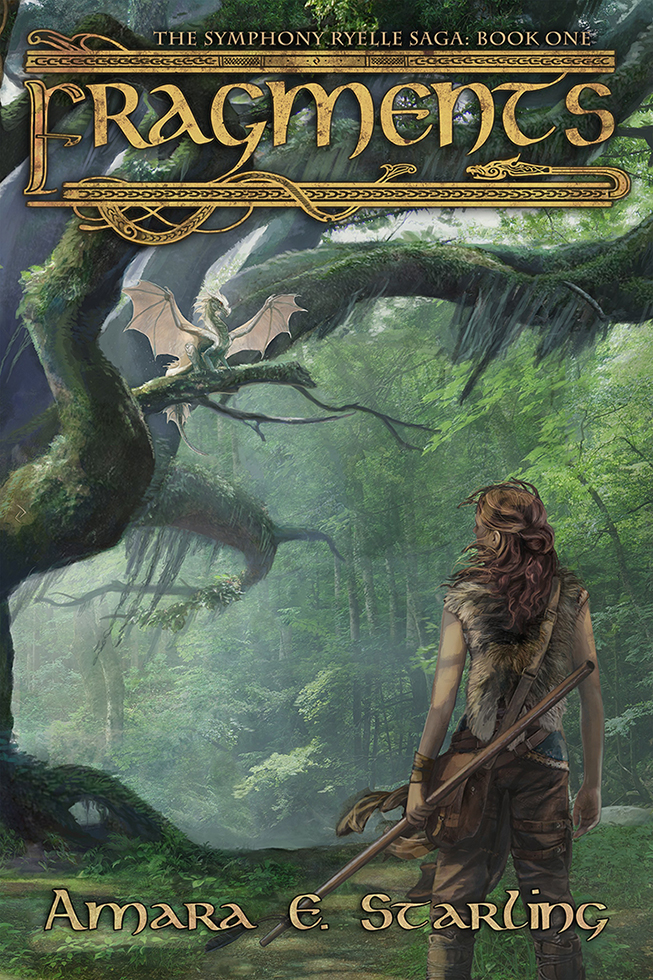 I recently completed the cover artwork for a very special and epic fantasy novel by Amara E. Starling. Visit the below links or AMARA'S WEBSITE  for more information on the author, the book, the world of Erhynvale, and the Symphony Ryelle Saga.
The full wrap around cover art can be found in my PORTFOLIO tab.
Paperback version coming soon…
Book Synopsis
In the dead of night two moons will cross
Guiding light to travelers be lost
A child born of fate's last breath
Nary a deliverance to the arms of death.
In every living thing, there was a capacity to be greater, to be more than one could ever dream. Being one of the rare immortals, Symphony Ryelle was no exclusion to that, for she was destined to awaken Orivnea from the moment of her conception—she need only realize it.
Cast aside at birth, as many of her kind were, Symphony was taken in by the abusive Head Mistress of an orphanage where she lived until her nineteenth year. After a chance encounter with a peculiar stranger in the marketplace, the girl found herself freed from the rigid constraints of the only life she'd ever known—but the cost of such freedom came with a steep price. Launched head first into the toils of survival, she quickly learned what it meant to become independent and take charge of her own life—until she discovered she was being hunted by the leader of the dark elves.
While hiding in the most unlikely places, Symphony learned of the existence of a group of immortals calling themselves The Gathering. She promptly set off to discover their sacred society of protectors, a family she could call her own, but what she didn't realize is that her enemies were closer than she thought. Her only means of escaping them lie in the southern dragon lands of Acariya.
Would Symphony's newly acquired survival skills help her evade capture? What could be in store for the other immortals of The Gathering, and what did the elven leader want with them? Is there more than the promise of destruction and tragedy on Symphony's horizon, or will she be forced to watch everyone she loves die?